---Video coming soon---
Properties

This section of the Admin Panel is a back door way to grant access to users, upload properties, hide/unhide properties, and delete properties.  You can also search by property name or address, see when it was created, when the property was accessed last, and by whom. 



From left menu select Admin


Select PROPERTIES



This will show you all the Properties you have uploaded to the TracFax Platform.  



Disabling and Enabling Properties

This video is on disabling and enabling properties in tracfax using the admin panel


Start at the home menu and choose admin

Select properties

Find the property you are changing the status of and slide the toggle to either make inactive or active. 

Inactive properties will no longer show on your heat map but you will retain all of the information from the property in your archives for potential future use.   


Property Access Logs

Use the search bar to search by either Property Name or by Property Address. 

Hovering over the creation date will give you a time and date format for when it was created. 

Hovering over the Last Accessed date will give you the time and date it was last accessed.  

Clicking on the Last Accessed date will pop open a window with a recent list of who logged into the site via TracFax most recently. 

Clicking on the User in Last Accessed window will give you an Action Log of that users activity on the property. 





Grant Access



Use this feature to grant access to properties.  You can give access to internal standard users as well as external contacts that need access to your properties but may not be assigned to a project or task yet. 

Use the drop down to select a name/email address and click Grant.  Roles will be assigned based on their default role.  Feel free to update their access to individual properties from the property page. 




Import Properties 


Use this feature to upload properties quickly.  As of 11/9/20 this is still a beta feature so please reach out to support@tracfax.com if you have issues.  
Use an excel style sheet with the
following extensions .xlsx | .xls | csv | ods.  Include an address or Geo Coordinates and set the status when you load them. Follow the directions at the top of the window for how to lay out the spreadsheet.  

Click "Upload Spreadsheet" to prepare it for import.  

Click "import" at the bottom of the window to import properties and their information into TracFax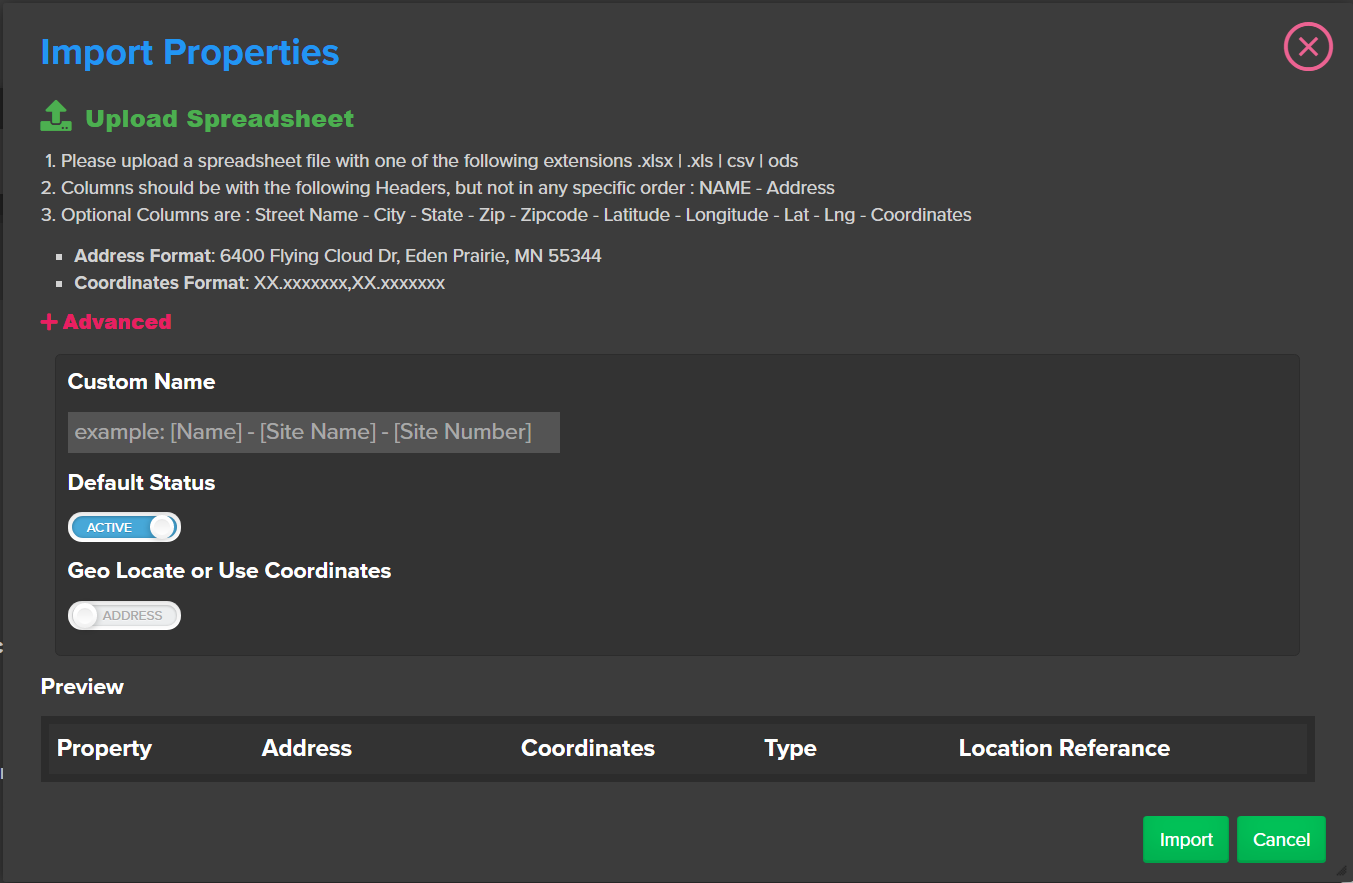 Bulk Actions


There are 3 options for Bulk Actions.  To use this, select the properties you want to include in the bulk action by clicking the check box to the right then click on bulk actions to choose which one.
Mass Delete - Use this option sparingly.  Once deleted all of the information you have created on this property is no longer available.  (Consider mass disable if you are just looking to clear space on your heatmap) This will permanently remove the property, all information, projects, tasks, and records for the property from your account.  
Mass Disable - This option is designed to keep your dashboard and heatmap tidy.  Use this to disable properties you are not working on or need to view.  This option is more often used by contractors who are not working with their own properties or users who have a large rotating inventory of properties.  Mass Disable simply hides the property from the head map while it is disabled.  Mass Activate allows you "turn on" properties that are Disabled. 
Mass Activate - Use this option to activate or "turn on" properties that were previously disabled.  You will now see these properties on your heatmap and task lists.